Vario
Def Leppard: nuovo album con la Royal Philharmonic Orchestra; ascolta il primo singolo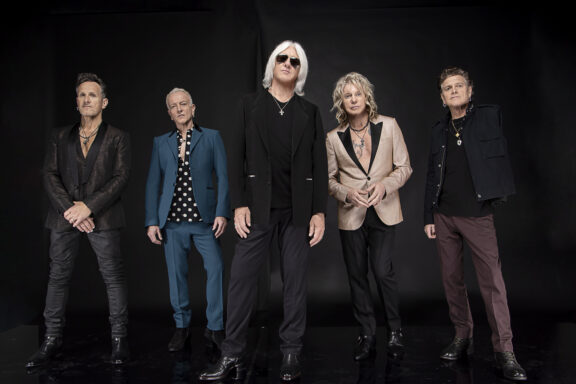 I Def Leppard pubblicheranno il prossimo 19 maggio per Universal il nuovo album dal vivo con Royal Philharmonic Orchestra di Londra, intitolato "Drastic Symphonies". Della nuova release è disponibile il primo estratto in streaming: 'Animal'.
May 2023 will see Rock and Classical royalty unite on a brand-new euphoric album titled "Drastic Symphonies" – Def Leppard's greatest produced tracks dramatically reimagined and sounding larger and more exhilarating than ever before, teamed with London's iconic The Royal Philharmonic Orchestra.
Def Leppard have deconstructed and rebuilt not only some of their most well known tracks but also some of their hidden gems as well. By and large, they have intertwined the audio from the original tapes and performed them alongside The Royal Philharmonic Orchestra.  The album includes new vocals and guitars which culminates in stunningly beautiful symphonic arrangements. At different points you can hear Joe Elliott duetting with his younger self.
Vocalist Joe Elliott says, "Def Leppard has always enjoyed veering off the expected path – working with the likes of Tim McGraw, Taylor Swift & Alison Krauss for example. So, when the offer to revisit some of our back catalogue with the Royal Philharmonic was presented to us, to a man we all jumped at it. Although we're far from the first band to ever do this, working directly with an orchestra at Abbey Road on some of our more orchestrated songs seemed too good of an opportunity to pass up."
This album represents a bold new approach to Def Leppard's most loved songs.
The Royal Philharmonic Orchestra was recorded at Abbey Road in March 2022. Produced by Def Leppard, Ronan McHugh & Nick Patrick (producer of the following RPO/Orchestral albums – Elvis, Roy Orbison, Beach Boys and Buddy Holly) with arrangements by Eric Gorfain (Neil Diamond, Ryan Adams, Christina Aguilera).
Guitarist Phil Collen says,
"When the offer of doing an orchestral album with the RPO was suggested we were honoured. But we didn't just want an orchestra plonked over our previous recordings. We decided to create something special where we would have something classic but present it in a brand new way that would involve making everything work in the context of Drastic Symphonies.
Recording new parts, remixing previous sounds, taking some of our instruments out so the orchestra could breathe and literally making a new album. It was an amazingly inspirational process culminating in the live recording of the RPO at Abbey Road studios in London. An absolute team effort that took a good part of a year.
It's a new Def Leppard album, it's a greatest hits plus album, with some rarely heard songs, it's a live RPO album and we think it's perfect. We're so proud of how Drastic Symphonies turned out and can't wait to share it to the world."
The album will be available on CD, 2LP black vinyl, limited 2LP coloured vinyl, limited 2LP picture disc, CD/Blu-Ray (Atmos) and digitally.
Album tracklisting as follows:
• Turn To Dust
• Paper Sun
• Animal
• Pour Some Sugar on Me (Stripped version)
• Hysteria
• Love Bites
• Goodbye For Good This Time
• Love
• Gods Of War
• Angels (Can't Help You Now)
• Bringin' On the Heartbreak
• Switch 625
• Too Late for Love
• When Love & Hate Collide
• Kings Of the World
The vinyl and Atmos versions will also feature an exclusive bonus track.
• Have You Ever Needed Someone So Bad
Album Pre-Order link: https://DefLeppard.lnk.to/ds-physicalpr
Album Hero Link (Pre-Order & Pre-Save): https://defleppard.lnk.to/drs-symppr
IG1 Animal Listen Now: https://DefLeppard.lnk.to/animal-dspr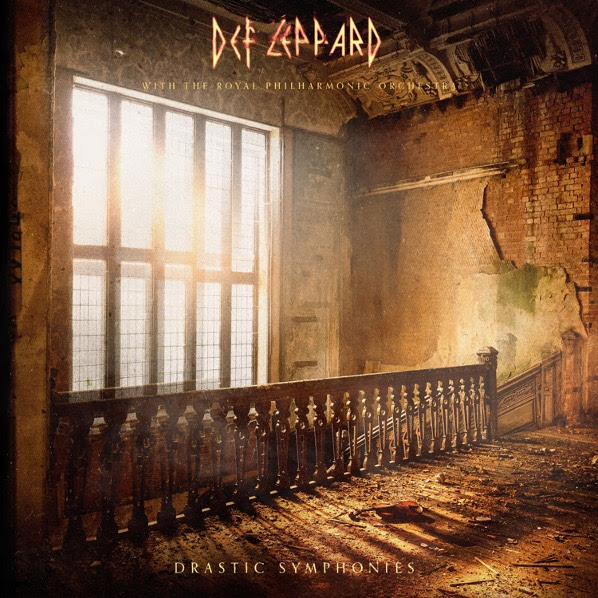 2022 saw Def Leppard release their critically and commercially acclaimed 12th studio album "Diamond Star Halos" which charted all over the world including a top 5 and top 10 in both the UK and North America. Early 2023 saw the band score a UK No 1 Netflix film with their cameo in acclaimed movie "Bank Of Dave". Joe Elliott is currently riding high in charts across the world with his guest vocal on the Ghost track "Spillways".
2022 saw Def Leppard play a SOLD OUT stadium tour across North America with Motley Crue – selling over 1.3 million tickets. February and March 2023 saw the tour wow audiences throughout Central and South America. In May, June and July the must see tour of 2023 comes to Europe, including a stop at the iconic Wembley Stadium on the 1st July. The band will then return to the USA for more live dates in August 2023.
THE WORLD TOUR DATES: 
Mon, May 22, 2023      Sheffield, UK.               Bramall Lane
Wed, May 25, 2022      Mönchengladbach, Germany     SparkassenPark
Sat, May 27, 2023      Munich, Germany              Koenigsplatz
Mon, May 29, 2023      Budapest, Hungary            MVM Dome
Wed, May 31, 2023      Krakow, Poland               TAURON Arena Kraków
Fri, Jun 2, 2023       Prague, Czech Republic       Prague Rocks *
Sat, Jun 3, 2023       Hannover, Germany            Expo Plaza
Tue, Jun 7, 2022       Solvesborg, Sweden           Sweden Rock Festival *
Fri, Jun 9, 2023       Helsinki, Finland            RockFest *
Sun, Jun 11, 2023      Trondheim, Norway            Trondheim Rocks *
Wed, Jun 14, 2023      Copenhagen, Denmark          COPENHELL *
Fri, Jun 16, 2023      Clisson, France              Hellfest *
Sun, Jun 18, 2023      Dessel, Belgium              Graspop Metal Meeting *
Tue, Jun 20, 2023      Milan, Italy                 Ippodromo SNAI San Siro
Fri, Jun 23, 2023      Lisbon, Portugal             Passeio Maritimo de Alges
Sat, Jun 24, 2023      Rivas-Vaciamadrid, Spain     Auditorio Miguel Ríos
Tue, Jun 27, 2023      Thun, Switzerland            Stockhorn Arena
Sat, Jul 1, 2023       London, UK                   Wembley Stadium
Sun, Jul 2, 2023       Lytham, UK                   Lytham Festival *
Tue, Jul 4, 2023       Dublin, Ireland              Marlay Park
Thu, Jul 6, 2023       Glasgow, UK                  Glasgow GreenSat, Aug 5, 2023       Syracuse, NY, USA            JMA Wireless Dome
Tue, Aug 8, 2023       Columbus, OH USA             Ohio Stadium
Fri, Aug 11, 2023      Fargo, ND, USA               Fargo Dome
Sun, Aug 13, 2023      Omaha, NE, USA               Charles Schwab Field
Wed, Aug 16, 2023      Tulsa, OK, USA  Skelly Field @ H.A. ChapmanStadium
Fri, Aug 18, 2023      El Paso, TX, USA             Sun Bowl
*Festival Date
For tickets check local listings for complete details including VIP offerings, on sale times vary. To purchase tickets please visit defleppard.com.
ABOUT DEF LEPPARD:
With more than 110 million albums sold worldwide and two prestigious Diamond Awards in the U.S., 2019 Rock & Roll Hall of Fame® inductees Def Leppard – Joe Elliott (vocals), Phil Collen (guitar), Rick Savage (bass), Vivian Campbell (guitar) and Rick Allen (drums) — continue to be one of the most important forces in rock music. Over the course of their career the band has produced a series of classic ground-breaking albums that set the bar for generations of music fans and artists alike.
The group's spectacular live shows and arsenal of hits have become synonymous with their name, leading Def Leppard to be heralded as the world's greatest live rock band. Def Leppard's influential career includes numerous hit singles and ground-breaking multi-platinum albums—including two of the best-selling albums of all time, Pyromania and Hysteria, capturing the group's legendary tracks, bringing together classic Leppard hits such as "Rock of Ages", Pour Some Sugar on Me" and "Foolin."
For the first time, in January 2018 Def Leppard debuted their full recording catalogue worldwide via streaming and download platforms. As they did with the original release of their records, Def Leppard dominated the worldwide charts again, which found their albums charting in the iTunes Top 10 in more than 30 countries, including Hysteria at #3 in the US, and #5 in the UK (36 years after the album had charted at No 1 in the Billboard charts). Def Leppard also had the #1, #2 and #3 records on the US catalogue albums chart.
The band have gone on to amass a staggering 5.5 billion streams since 2018, reaching a younger 18-44 demographic that now represents 58% of their fanbase. Additionally, the band have garnered an impressive 15 million followers across their social media platforms. In May 2022, Def Leppard released their twelfth studio album Diamond Star Halos. The album debuted at #1 on the Apple and Amazon Music charts.
The album also scored a Top 10 debut on North America's Billboard's Top 200 Albums chart, marking the band's eighth Top 10 album of their career, and garnered a #1 debut on Billboard's Hard Rock chart. Diamond Star Halos had numerous Top 10 chart entries globally including a Top 5 debut in the UK. Following the close of their historic 2018 co-headline stadium and arena run in North America, Def Leppard sold in excess of 1,000,000 tickets, a massive feat in today's touring world. Def Leppard & Mötley Crüe topped that number yet again with another sold out North American stadium run in 2022 selling over 1.3 million tickets. As always, the group keep pushing the boundaries with their electrifying live shows.