Mark "Weissguy" Weiss interview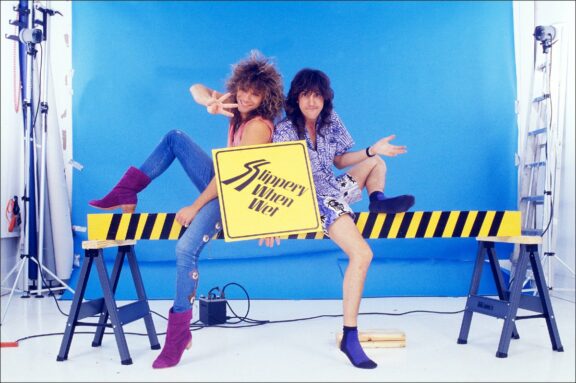 A few days ago, Mark Weiss published his first book, "The Decade That Rocked".
If your not familiar with Mark's name, you'll just need to open the book, or even to just look at the book cover, to immediately recognise his works. The photographer shot everyone who mattered in Rock and Metal in the 80s.
Iron Maiden? Done. Judas Priest? Done. Metallica? Bon Jovi? Van Halen? Kiss? He worked with them all.
Weiss shot the legendary cover of Twisted Sister's "Stay Hungry", the reunion show of Black Sabbath at Live Aid in 1985, and countless other historical events of our favourite genres.
"The Decade That Rocked" is a collection of  many photographs shot by Mark, together with stories of how these photos came to be.
We couldn't miss the chance to talk with the legendary photographer, and here's what he told us.

At the bottom of the page you can watch the interview recording.
Puoi leggere l'intervista in italiano qui.
First of all, you've got this amazing new book being released next Tuesday [June 2nd], "The Decade That Rocked" with a lot of great photos you shot in the '80s and some stories about them and about yourself. To begin this interview, I'd like to ask you why you decided to write this book now, 30 years after the end of the '80s, and not maybe five or ten years ago?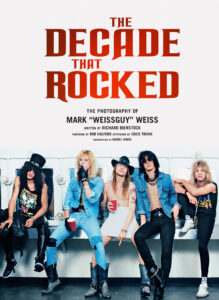 You know, when on tour with the bands and they were successful, Van Halen, Mötley Crüe, a lot of photographers did like a one shot of just that band.
I had the opportunity to do it, but I just didn't want that to be my first book, then years go by, decades go by, I just wanted my first book to tell my story, to represent my story.
I just waited!
I knew it would be a really big achievement to do, and that it would take some time, some headspace that I needed, and I wasn't really ready until like 7 years ago, to be honest with you.
It was supposed to first be another kind of a book were we would just took photos of band with big hair and make it a really easy book, then I thought to myself, "Nah, it's too easy".
I challenged myself and I just wanted it to be like a narrative, with some help from my rock star friends who were my subjects, we did it with all of them; I thought there would be more stories in the beginning, but they're just little quotes now on the side of the pictures.
Starting from the beginning, you begun shooting concerts sneaking in your camera to shows when you were around 14-15. At 17 you started working with magazines, first Circus and then Spectrum too, and at 19 you started getting paid assignments. So, in 1979 you are asked to shoot Peter Frampton's promo shots for his new album; this is the first time you shoot a musician outside a concert, how did you prepare for it? I mean, from what you said in the book you just had had a class in school, and then it was mostly first-hand experience on the field, right?
You know, I just wanted to shoot concerts, I just wanted to meet people, I just loved being around all these new people, they were all my new friends.
I didn't even know it would be a career until I was like 20, I went to college to keep my parents happy, I tried that out, doing this on the side and at one point I said, "You know, I'm making money out of this", and I made the decision to go full throttle ahead, and any time I had an opportunity with someone that I met I would just take it to the limit, which I still do to this day.
I always say, "You've got to make your opportunities", and luckily enough the opportunities kind of laid in front of me without me trying too hard, so I thought, but I made them happen because I got arrested at a Kiss concert when I was 17 selling pictures for $1, selling them at my high school becoming this popular kid, that was fun, got a lot of attention, got attentions from girls too 'cause I was quiet, and then I just got arrested at the concert.
I picked up my magazines that I had since I was 13, Circus magazine, which is the biggest Rock magazine back then, and I just looked at the address inside, I went there, knocked at the door and they let me in. The secretary took a liking to me, she said, "Hang around until the art director comes down, he's in a good mood", and I just waited and waited a couple of hours, I saw him, he shook my hand, he saw my portfolio, he told me to do this and do that, use this film, I came back in the summer, maybe six months later when I had some pictures of Ted Nugent and Aerosmith.
They needed pictures, because they weren't allowing a lot of photographers to shoot them at the time and I snuck my camera in again, I left them in their office, and two months later it was the centrefold in Circus magazine, that's what kind of launched everything.
Their management company saw it, Steven Tyler saw the picture, he liked it, so it just kinda organically happened.
A few pages later you mention the shoot you did with Eric Bloom of Blue Öyster Cult, and you say that after the shoot you talked with the tour manager of Black Sabbath to see if they would do a some quick photos. This is something you mention often in the book, you taking every chance to shoot some extra pics, with support acts of the shows you were shooting, or just any band you had the chance to. At this point these are not assignments for the magazines you shot for, just impromptu shots, so what did you do with those photos? Were you just shooting the planning to sell them later to magazines, or just keeping them for yourself…?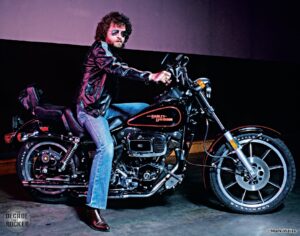 Well, I guess at that time I was starting to get assignments from Circus Magazine, actually that assignment, Lynn Goldsmith, who was a photographer who had a photo agency who was kinda helping me out getting a little more access, she couldn't make the show, or she didn't want to do it. Eric Bloom, the singer of Blue Öyster Cult, wanted a photo of him and his motorcycle, I don't think she could make it and she said, oh, this will be right up my alley, so she threw me a bone. I went there, I set up my light – that was one of the first times I brought my studio lights to a concert and set everything up – I set it up backstage, I believe it was the Garden, or Nassau, I think it was the Garden in New York City.
Black Sabbath [were there], it was the Black and Blue Tour, and when I finished that shoot with Eric, I was kinda like a freelance, he wanted the pictures with the motorcycle because he would ride the Harley on all the shows, and once I was there, I mean, I was working for Circus also at the time, and they let me shoot the show, and when I wasn't on assignment I would just submit the photos and I would get a space rate, so of course I'm gonna shoot Black Sabbath, I'm gonna try to.
I wasn't accredited at the time so I just found the tour manager, I introduced myself nicely, I said, "I'm doing some things with Eric, I have a studio setup, some lights, can I get the band to pose for a few minutes?". They said yes, they were nice, and Ronnie stayed behind, we had a nice chat, Ronnie was just a really nice, humbling kinda guys that makes you feel like you're important. He was like a father figure to a lot of the rockers, and with me too, or an older brother.
After the bend left, Tony, Geezer and… who was the drummer, Vinnie, I guess?
Maybe it was still Bill in 1980?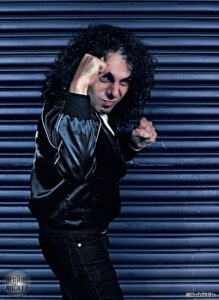 No, it was Vinnie, it was Vinnie, yeah.
So, they left, and Ronnie stayed behind, he goes, "You sure you got everything? Everything good?", and we had a little talk and I said, "Well, I'd love to do some solo photos with you", and he goes," Sure, Mark!", and that was the full page in the book.
And from there the next tour came around and I started working with them, they liked my photography; I worked for other magazines, like US Magazine, which is more of a mainstream magazine, they started to do some Rock and Roll, so I was the guy there and that got me a lot of access, and they [the band] give you a little more time and that gives them the chance to get to know you.
After that it just snowballed, he [Dio] went solo in '83, the following year or a couple of years later, I set up a photo shoot for "Holy Diver" and through the years, and through the decades, and even when they did the "Heaven and Hell" reunion tour, they asked me to do the photos for the packaging, so all the photos are my photos, that was like the last photo shoot they ever did together.
Something I've always been amazed by is how it seems that every iconic photo of big Rock and Metal bands in the '80s was shot by you or Ross Halfin. How did that happen? Were there just very few photographers who shot this kind of bands, or were you the best at connecting with the bands and at getting the kinds of shots that they needed?
Well, there was three of us, actually.
There was Neil Zlozower in the West Coast, there was me in the East Coast, and there was Ross in England, and we all had our own little niche, we are all so different, but we were very competitive.
Ross had Kerrang Magazine, that got him the access, so he was able to connect with a lot of bands, and I think he worked for Sounds before that.
My connection was Circus, so we kinda… the bands needed us too, they were the rock stars but they saw the importance of giving us the access, so we were like the chosen few.
We all get in in our own way, we were all competitively helping each other being in our game; I was the youngest one of them all, so I came a little bit after them.
Neil is the oldest, then I think Ross is a little older than me, and there's me.
But to answer your question, there were tons of rock and roll photographers, or wannabe rock and roll photographers, but they were just people that saw that there were so many magazines popping up, and so they found a way to make a buck and to go to concerts, because most of the photographers in the pit were fans, but they all tried to make a living out of it.
Most of them didn't make it out of the '80s, I kind of adjusted but I didn't just rely on my Heavy Metal/Rock N' Roll photography, I did a lot of different things, I even did videos, I worked with a lot of the classic Rock bands in the '90s, I also worked with Christina Aguilera, I did album covers for her, Gwen Stefani, Lil' Kim, all such of things, Backstreet Boys I did work with, Justin Timberlake, so each decade segued into getting me to the next plateau up until 30, 40 years later.
I never gave up, I've had some tough times too, there might have been two or three years where it wasn't good, and I kinda just stuck to it, and then I started branding myself, gallery prints, and slowly but surely it just turned into what it is now.
In the book you quoted Nikki Sixx saying "He was one of the boys. That's why he did so well with so many artists. […] He was one of us". What did you do to blend in so well with them, was it the way you talked, the way you looked, or what?
Looking back, you know, I had longer hair than them a lot of times, I still have long hair, I just like long hair, I'm kind of a product of the '70s, that's when I grew up, in the '70s.
We all came from the same area, they all liked the same bands that I liked, we all liked Led Zeppelin, Aerosmith, Ted Nugent¸ all those bands.
There was this connection because we had similar interests, we all liked to party, we all liked girls, they felt comfortable around me, they were just all good friends.
A lot of the bands, like Mötley Crüe, I gave them their first national exposure in Oui Magazine, there's a section in the book where there's half naked women, you know, it was a men's magazine, a lot of the bands liked that and I'm the guy who did it, so they take a liking.
But, you know, either they like ya or they don't like ya, they liked the way I was around, I was never pushy, you know, the other photographers that you mentioned, Ross is a little more pushy, Neil is a little more partier, a little more outgoing, but they [the bands] like them too for whatever their qualities are, so it's like bands would have three girlfriends, and we'd be like their three girlfriends: if they felt like having Ross around they'd have him, or they wanted me if it was in my territory, or Neil in the West Coast. We were never like… the bands made sure we wouldn't be there at the same time, we crossed paths every once in a while, for shows, but they knew that each one of us wanted to get the attention.
Rock stars notoriously are often difficult people to work with, how did you deal with that? Because when you did the photo shoot with Vince Neil and Ozzy you wrote that you said to Vince "Bring a tux and don't ask question", so a bit rough in a funny way, while of course there's the story of Danzig being pissed off when you only touched him during a shoot, so I guess that you had to adjust your ways around different kind of artists.
Well, most of the artists like my sense of humour and like me kidding around, even when I just meet them for the first time.
With Danzig, they hired me to do the packaging for the "Mother" album, what is it called…? It's just "Danzig", I think, the first solo album, with a skull on it.
So, they need promo shots, they need photos inside, like for the gatefold, so the record company hired me, I had never met them before and they were just not so friendly; they just wanted to take the pictures, I said, "Okay, let's go to town, let's go to work", and then no one would move.
First I put them in position so they would look right, there's four guys, they're all different heights, Glenn is a little smaller so I move him forward and shot him at a lower angle, I did my little photography trick with prospective, and then when I had them all in this line-up then I had to work on the attitude and they weren't giving me anything.
Well, they were giving me the attitude but their head was tilted back a little bit and I needed them to move forward because the chin was kinda doubling up. They wouldn't listen and I just kept saying, "Lean forward, lean forward", you know, if you have a double chin it helps having the jawline in the right angle. It was like I was talking to a brick wall, so I came over and I moved a guy, he was looking at me like that but he let me do it, I was kidding around, usually I would tickle them a little if that was one of the bands I knew, like to kid around, but I knew that I wasn't gonna go there; but when I got to Glenn, third person in, he's like "Don't  touch me!", and I'm like, "Alright dude" and that was it.
So I went back and took the pictures, I said, "Alright we're done". They ended up loving the photos, they used them, but I found out from the record company the next day, when I asked how did they like the photos they said, "Oh, everyone loved the photos, but what did you do to piss Danzig off?", and I was like, "Oh, maybe because I moved his shoulder a little?", and he said, "Oh you shouldn't have touched him"… alright.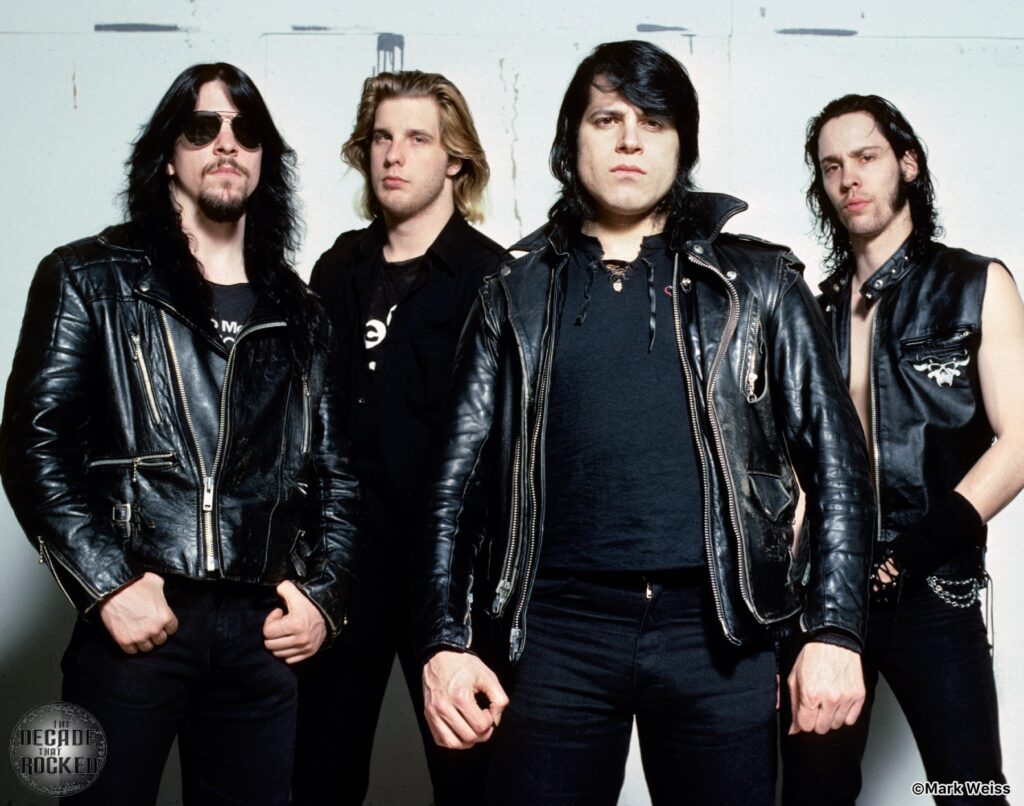 Bon Jovi is an artist that you had a lot of history with: you shot him almost by accident in 1980 with one of his first bands, and you went on to work with him for some of his most famous works, includeing the cover of "Slippery When Wet". I think a very interesting thing that you mention in the book is how, when you first shot him for his second album, Jon told you he couldn't believe he was working with you, showing how established you were already in '85, almost like being shot by you was a proof of how big a musician was. Tell me about your relationship with him.
When I shot him when he was 18, I was shooting Southside Johnny at the side of the stage, I was photographing him drinking a beer watching Jon, I didn't know who he was, and he was like, "You should be shooting that kid". I thought he was just trying to get rid of me so I said, "Alright" and I took a roll of film of him, it was his last song, and it went in the files until later on, when I realised that I had photos of the Rest, and I didn't know who the Rest was through the '80s, today I know, ten years ago I knew, when I was putting together the book, because I found out about them.
Then, fast forward two or three years, in '83 I was hired by ZZ Top to shoot them at the Madison Square Garden and while I was in the photo pit, the opening act was there and it was Bon Jovi who I had never heard of; actually, I had heard him on the radio, they'd just won a contest, WAPP I think it was called, and I shot a couple of rolls of film, I thought they were good, I found out a little bit more about them, I knew the song 'Runaway' which was starting to be a hit, and that was kinda it.
Fast forward two more years, I was working with Mötley Crüe in LA with Doc McGhee, he said, "I have this band I'm managing called Bon Jovi, they are from your neck of the woods". They actually grew up where I grew up, a couple of towns over, they were a few years younger than me, it's not like we went to school together or anything like that but we came from the same cloth, the Jersey shore, and we knew the same things, so we connected when Doc hired me to do the publicity photos for "7800 Fahrenheit".
That's when we first met, and that's when he said that [he couldn't believe he was working with me] and when I said to him jokingly, "One day you'll tell me to get the camera out of your face".
I was in Circus Magazine all the time and they wanted to be in Circus, and all the other magazines, Faces, Hit Parader, and whatever other Rock magazine there were. So that was the beginning of it, then they exploded pretty quick, they went to Farm Aid, Doc had me go to Farm Aid with them, so Doc just wanted me to document and get them in as many magazines as possible. When we got to Farm Aid, everyone wanted to be photographed with Jon, Kris Kristofferson, Willie Nelson, he was this little budding star.
Then, a short time after, they did "Slippery When Wet".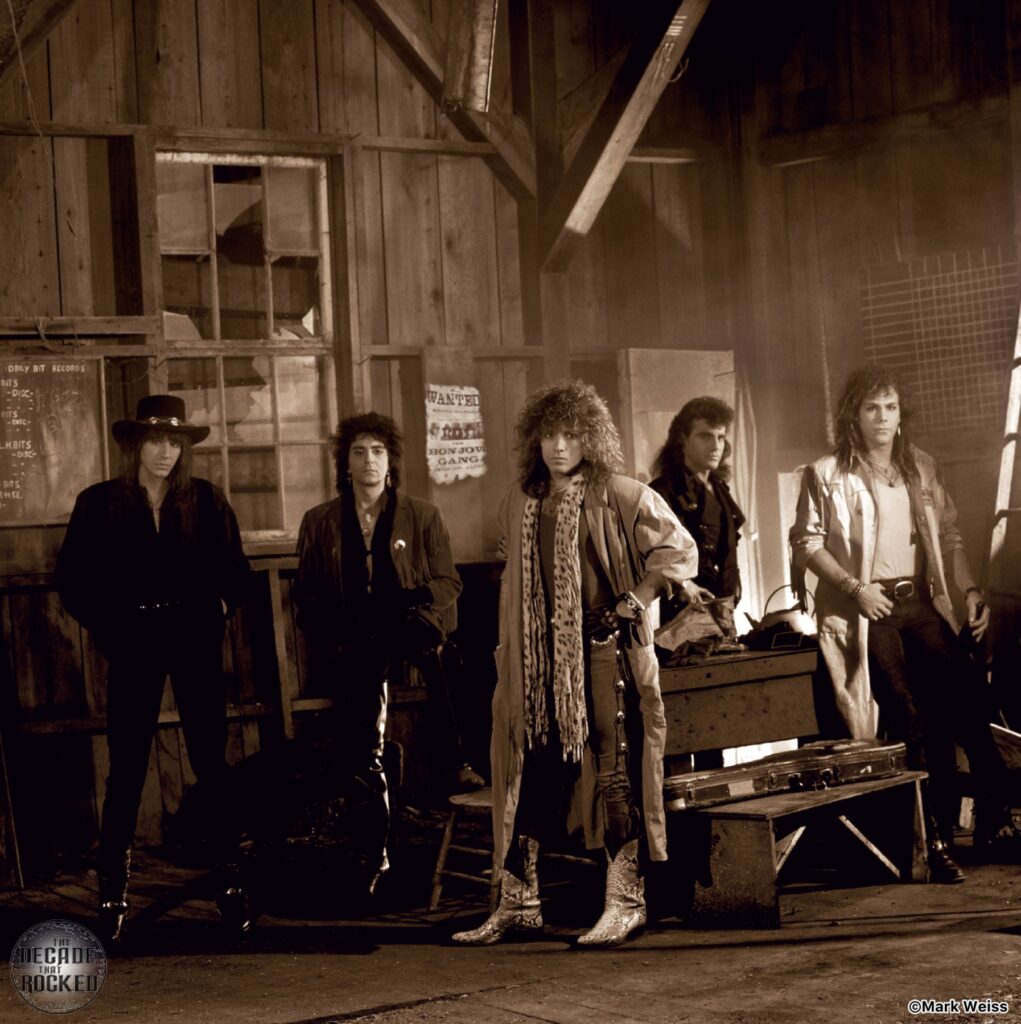 At that point we were friends, we hanged out, I went on tours and took pictures for posters and things like that, and then when they were recording "Slippery When Wet" they wanted me to go out to Vancouver and they had this concept for "Wanted Dead or Alive" and that ended being three different photo shoots that turned into "Slippery When Wet".
As for the relationship, I was the guy, I was the guy up until probably '96, "Keep the Faith", when they cut their hair; I went on their South American tour in '96, six weeks with them, and then things kinda… you know, everything kinda changed.
He was having other photographers shoot them, there wasn't a demand for Bon Jovi photos in magazines where I could get them, because a lot of times, most of the times, I wouldn't charge them for a photo shoot, I would just do it on spec and then when they needed it I would sell them images, they were paying for my expenses, my hotel and travel, but they don't pay my day rate.
I would have all these photo shoot that I own still to this day, and whenever they needed them for a poster or something I would make the deal then; at the end of the '90s it wasn't that lucrative for anyone really, 'cause they just needed a photo for their album cover and that's kinda it, they didn't need every two or three weeks a new photo shoot. In the '80s you couldn't have enough of whoever was hot at the time.
You shot an incredible number of legendary artists and I think you'd have a lot of interesting insight about them, but we'd have to make this interview last many hours. There are two musicians, however, that I'd like to ask you specifically about because they died young and became legendary, and many years later are still inspirational to many. The first one is Randy Rhoads of whom you took a portrait which is very famous, the one of him with his arms crossed, and a bunch of other photos with Ozzy's band. How was he like and how was it to work with him?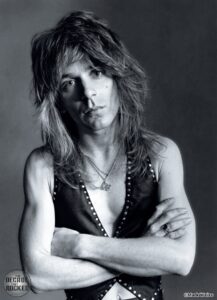 Yeah, that photo was shot at the Capitol Theatre in '81, they used it on Rolling Stone when they announced his death, I was really honoured that they did use that.
I like that photo because he doesn't have his guitar, it's just him, you know.
He was very soft spoken, I didn't really get to know him honestly, he was just around and we didn't do a lot of photo shoots; I wish I had got to know him better because of all the things I heard about him, but I don't really have much to say, just that he was very humbling, very to himself.
I became very good friends with Kevin DuBrow who was his best friend and I heard all these stories from Kevin, they had like this love affair, they were like brothers, so that's kind of the only insights I have, from Kevin's prospective.
The other one is Cliff Burton who you were lucky to shoot because you first shot Metallica during the Master of Puppets tour, so shortly before he passed. How was he like?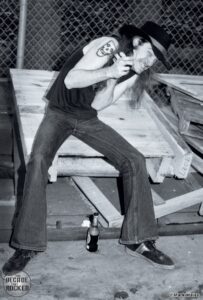 He was another very quiet and to himself, but he was goofy too.
Ozzy was on tour, and whoever Ozzy took on tour with him I got to know them because there's only so many photos I can take of Ozzy and not get bored, after a while it gets redundant, but if there's an opening band I would take that downtime to shoot the opening band, then when Ozzy hit the stage, or when he was getting ready, I would turn to "Ozzy mode".
Metallica was on the road, I made myself known to them, I introduced myself to the guys and I said, "Being on the road here and there I'd like to shoot some photos, I will show them to you before I release them to the magazines, I'll show them to you and then we'll get them out there", so that's how I developed that relationship.
Sadly he passed away in the bus accident, and I got a call from the record label and they asked me to do publicity shots over in San Francisco when they [Metallica] were rehearsing with Jason, I was like, "That's great!", first photographs of Jason and the band in San Francisco Bridge, we spent a day together doing those photographs.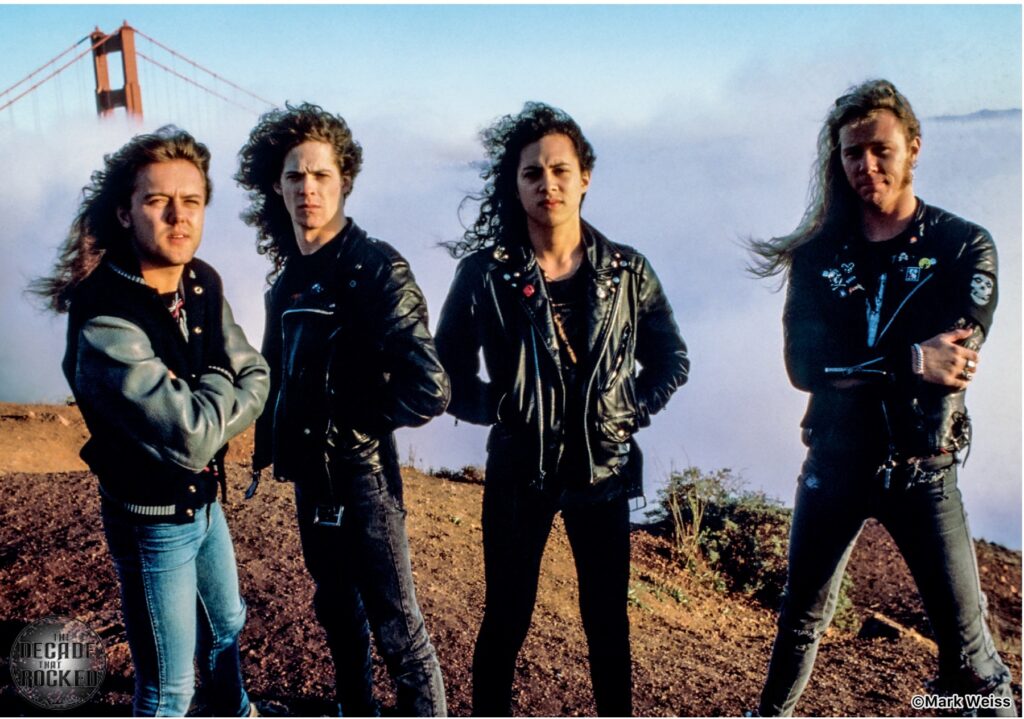 I mentioned before how it looks like you shot pretty much everyone who got big in those days, in the '80s, I wonder if there's any band that you regret you never got to shoot?
Not in that decade, not in that genre of music, I think I got everything covered there.
Of course, in the '70s I would have loved to do the Stones, or Zeppelin, go back a decade Jim Morrison, Janis Joplin, those are the obvious, but I would have loved to be on tour with Led Zeppelin, and the Stones, those are the two that, you know, it's just imagery all around you.
This would be difficult for me, and I didn't even shoot them, but do you have a favourite photo among all the ones that you shot?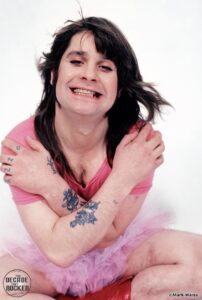 I guess I would say the pink tutu with Ozzy, because that photo kinda put me in the line of what I knew I wanted more of, you know, dressed, being more creative, doing goofy things, and Ozzy gave me that platform for people to see what I can do.
It was a fun shoot, Ozzy was great and that photo shoot being on the cover of Circus got a lot of notoriety, even though that wasn't even intended for the cover, it was only supposed to be a little black and white photo.
I shot it in colour and sent the photos to the magazine and they used it for the cover and Ozzy and Sharon weren't too happy about it at the time, but then it turned around, they got a lot of publicity and that sparked doing more of those shoots, 'cause we've done some crazy photo shoots.
Still to this days, we are very close.
I guess another cool thing about that is that it shows how influential a photo can be, because if it wasn't for that photo he would have been the Prince of Darkness for longer, maybe still to these days, without all the funny sides to him that we got to see thanks to that.
Yeah, I mean, he'll always be the Prince of Darkness, it's like, one photo that it's in the gatefold, because there are three gatefolds in the book, it's him with the Easter bunny costume.
I actually took that as a joke because I was sharing my studio with a commercial photographer and that was in a corner; when Ozzy walked into the studio with Sharon, we were just doing straight photos of Ozzy, of him looking cool, and we had this other idea of him dressed like a housewife.
The Easter costume was there from the other photographer and I didn't even know, and Ozzy looked at it and says, "What's that, Mark, over there?"; I looked and it's the first time I saw that and I said, "Oh, that's what you're gonna wear".
There were flowers set up, there was this big Easter bunny thing, so we took the photos, he hopped around, we had fun and then I put the photos in my archives, in my file cabinets for like 20 years, I think.
Then I finally came across them and on Easter I sent them to Sharon and Ozzy and I said, "Remember this?". I didn't want to release these, the Prince of Darkness in this bunny outfit, but then I sent them to him and they posted it.
So I'm like, "I guess the bunny is out of the closet", then I started posting it every year, and they post it every year and it became kind of an iconic photograph.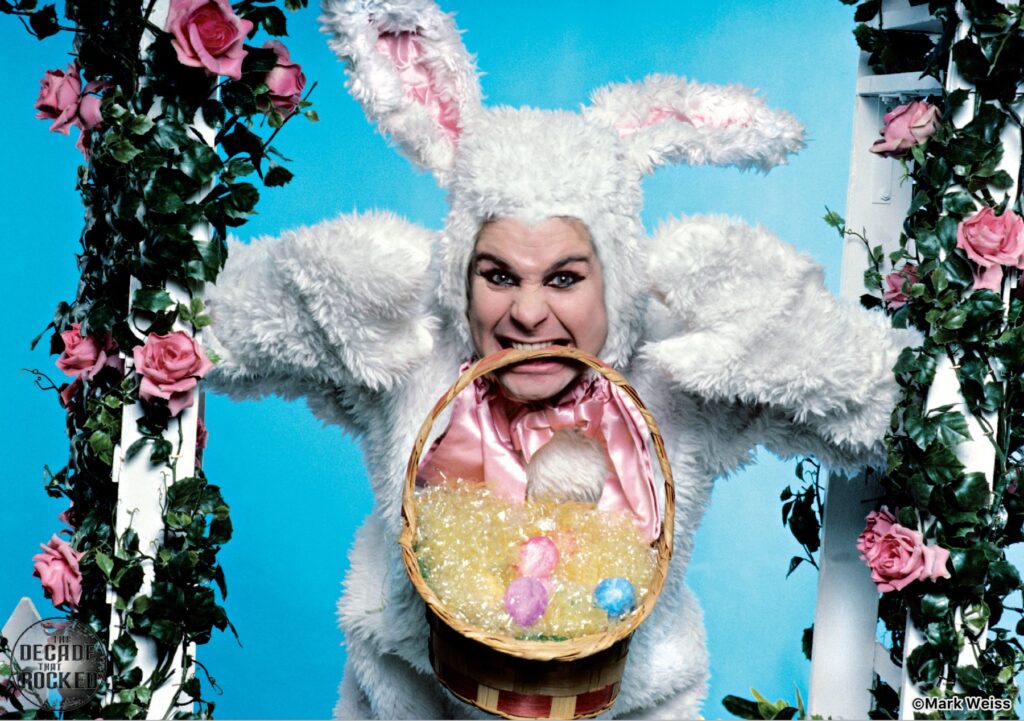 You could start your career as a music photographer because there were magazines that were interested in your photos, and only later you branched out into working directly for the bands. How do you see the future of the job now that on one hand music magazines are struggling to survive, and on the other hand there are way more amateur photographers getting into this, you can now buy a DSLR for not a lot of money and learn on the internet how to shoot, saturating the market in a way. And I guess also a lot of people are happy to just have their not-so-good photos shot with their phones.
So, advice for photographers?
I mean, in general, what do you think will happen to music photographers? Is this a job bound to almost disappear, a few will just work with bands doing promo shots and that's it?
Probably, but who knows what might happen with new technologies.
Really, it's the access, you've got to want to do it.
Nowadays photographers, they're not just photographers, they've got to do videos for social media, I know once photographer who does the band's wardrobe, you've got to wear a lot of different hats, and you're 24/7!
Me and the photographers of my era, we went, we took photos and we waited until we got back to develop them, we didn't have to rush right away to edit them and spend hours, 'cause that's what it takes now, it takes hours, it takes more time to edit the photos than to take them.
Back then you took them and then went out to party with the band, you put the photos in a bag and a week or two after you're on the road you get them developed.
Then you edit them with the light table and the loop and the whole deal.
Today it's like, if you like doing it, just do it. What I would say is, create your own brand, create your own website, collect your photos if they're that good, and you're good at it create something special online 'cause that's where big companies and corporations go for advertising, for mailing list names, it all goes there.
If you can afford to live out of your passion with photography, rock n' roll, whatever it is, create something online, create your own something special website, whether it's a blog… right now all the websites are kinda looking all the same, so come up with an idea of something special and different, could be just a name.
Just do something where it's you and you're not working for anyone, you're just working for yourself and then it will be, give your own self-esteem, let that make you happy.
If you're happy then other people are probably gonna gravitate to it because they'll probably feel the same way that you do.
At the beginning of the book you say "At the end of the '70, a lot of people thought rock n' roll was on its way out", and you say that the big acts of that decade, bands like the Zeppelin, the Stones, Aerosmith, were in a period of transition, and that allowed for bands like AC/DC and Van Halen to rise. I was thinking that the same sort of thing happened for the two following decades, in the '90s it was the time of Grunge bands like Nirvana and Soundgarden, together with Pantera and others, then at the end of the '90 and the beginning of the 2000 it was bands like Linkin Park, Slipknot, and System of a Down. After that, however I can't really think of a lot of new Rock or Metal bands that made it that big, all the big headliners of festivals today are bands like Metallica, Guns N' Roses and Iron Maiden. Do you feel like this time rock 'n roll is really on its way out?
No, I think it's on its way up!
I think the '90s were kinda rough, in the 2000s everything changed, they had Linkin Park, a little bit harder edged music, then I guess in the last ten years it was all over the place because of the internet.
There are so many bands that are even playing arenas that you've never even heard of, so it's out there, you've got to go out on tour; unfortunately right now, because of what's going on, these band can't make a living and get to that status until everything is cleared up again, but they've just got to brave it through, start with small clubs, build a following through the internet and if you have music that the kids like you don't have to rely on record companies.
In the old days if the record company dropped you, you were pretty much kinda done, unless you had a fanbase.
Because of the record companies and MTV and the whole marketing you were gonna get big pretty quick, and that's what happened with a lot of the bands I shot, and then they'd have a fanbase; right now luckily all the people who went solo in the '80s, that's their fanbase, that's why they can build their fanbase up, and while doing that there's all those new kids that, whether it's from other kids, or from their parents who liked the music, or they find it on their own 'cause of the internet.
Most of the bands are doing better than they were doing in the '80s, back then they were big for a good two or three years, then they fell out; of course Bon Jovi, Mötley Crüe, Poison, a bunch of other bands, Metallica, Kiss, they braved through everything and kept a certain level of success, where a lot of bands like White Lions and L.A. Guns and Winger, they had to slowly build up back, and they back! Sometime they might only be on the cruises, like the Monster of Rock cruise, and that keeps the fans happy and satisfied, then they might do weekend gigs where they fly in for the weekend, you know, something that support them. They might not have the big houses and the boats like they probably thought they were gonna have in the '80s, but they're not pumping gas.
"The Decade That Rocked" is a photography book, but I also found very interesting what you wrote, giving a behind the scenes look at many of your works and at the world of the important bands you shot. Of course you had to decide who to focus on, but in the book we can see many other photos that have no descriptions – those of Anthrax and Slayer and Savatage, a band I really love, and so on – that I'm sure also carry interesting stories with them. I was wondering if you think you might do a second book in the future with more stories, and photos, of course.
Yeah, this is my first book, I learned a lot, it came out exactly how I wanted to, at the end of the day, except that I designed it for 600 pages, and it was only supposed to be 278, and then we edited it down to 400, which I'm really thankful to Ensight Editions for kinda like going up and giving me these extra 120 pages, and the gatefolds; they saw what I had and they believed in it.
Book are history, and I felt that the photos that I chose were very specific on telling a story, even if I didn't tell a story, whoever lived it knew the story. It wasn't supposed to be a lot of words, so I only picked and choose the stories that I felt more than just a photo shoot, you know, like a lot of them.
That's one thing that helped me edit it, and they helped me edit it.
A lot of bands I couldn't even put in, that's why all the chapters start out with a lot of little photos, these are all things that I would have loved to have a lot of full pages on, they were full page and then we had to cut them down, so we had to figure something out and that's when I did this chapters' beginnings.
Every chapter would have a picture of me in my office or somewhere, a picture with the band, a crowd, fan photo, 'cause I love fan photos and crowds, I just love taking pictures of them, and then some passes and laminates from that era or from that year I thought were important, then little slides of all the other bands I couldn't put in that chapter.
So, I wish I had a couple more pages of that, but a lot of bands didn't make the cut, and those who did are special to me.
To answer your question, another book, I think my next book is gonna be maybe… I might call it "The Decade That Rock – Black and White", because there are photos in there that are special and are black and white, but when I was out on the road I would take all these photos in black and white because it was cheaper, the lighting was a little more forgiving, and the bands would be more off-guard.
I'd say, "These are just black and white, we're not gonna do anything with these photos", so they would let me be a fly on the wall extra, whether I was on the bus, or backstage, it was always the black and white camera, not the big thing with the flash.
So I have all these contacts and negatives that I never even looked at, even to these day, I peak in every once in a while, and I think I could make that a book.
"The Decade That Rocked B/W", so it'd be more on the road, where this book is more stylised photo shoots, album covers, this next book would be more nitty gritty black and white.
Yeah, I think for music lovers it would be really interesting to see these sorts of candid, fly on the wall sort of things.
This was my last question, thank you very much for your time, it's been great to talk with you!